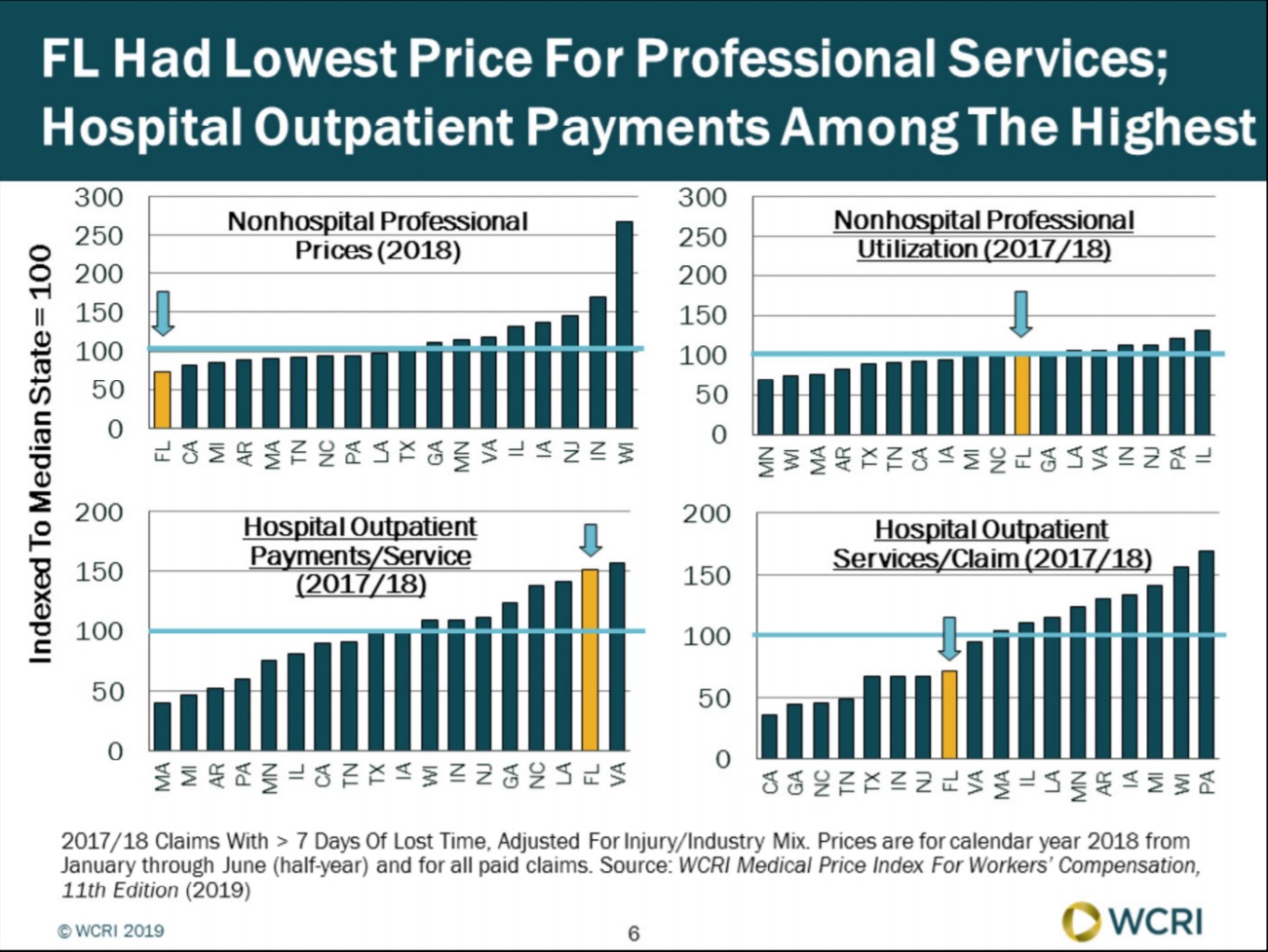 Cambridge, MA, November 14, 2019 – Medical payments per claim in Florida have been typical of other states for workers' compensation claims with more than seven days of lost time; however, this result masks several offsetting factors mainly related to fee regulations, according to a recent study by the Workers Compensation Research Institute (WCRI).
The study, CompScope™ Medical Benchmarks for Florida, 20th Edition, compared Florida with workers' compensation systems in 17 other states. For the study, WCRI analyzed workers' compensation claims with experience through 2018 for injuries up to and including 2017.
Prices paid for professional services by nonhospital providers were the lowest of all states studied, due to lower fee schedule rates. Payments per claim for ambulatory surgery centers (ASCs) and for hospital outpatient and inpatient services in Florida were higher than typical.
The workers' compensation fee schedule in Florida ranked among the lowest nationwide. Reimbursement for nonhospital professional services is based on a Medicare Resource-Based Relative Value Scale (RBRVS) fee schedule. Another factor underlying the lower prices in Florida was price discounts through negotiation and network participation. For most types of professional services, the average prices paid were lower than the fee schedule rates.
"In states with lower prices paid and lower workers' compensation fee schedule rates, one may see certain billing practices that increase the payments to medical providers," said Ramona Tanabe, executive vice president and counsel of WCRI. "This study found that more complex office visits with higher prices were billed more often in Florida than in other study states. Other WCRI studies also reported that Florida had more frequent physician dispensing of prescription drugs."
On the other hand, higher payments per claim for ASC and hospital services in Florida may reflect the impact of the charge-based element in the state's fee schedules for these services.
The following are among the study's other findings:
A higher percentage of surgeries in Florida were done in ASCs than in many other study states.
Prescription payments per claim were higher than most study states, due to higher payments per prescription, while the average number of prescriptions per claim was typical of the 18 states.
Medical payments per claim in Florida grew moderately since 2012.
To purchase a copy of this report, visit https://www.wcrinet.org/reports/compscope-medical-benchmarks-for-florida-20th-edition.
The Cambridge-based WCRI is recognized as a leader in providing high-quality, objective information about public policy issues involving workers' compensation systems.
About WCRI
The Workers Compensation Research Institute (WCRI) is an independent, not-for-profit research organization based in Cambridge, MA. Organized in late 1983, the Institute does not take positions on the issues it researches; rather, it provides information obtained through studies and data collection efforts, which conform to recognized scientific methods. Objectivity is further ensured through rigorous, unbiased peer review procedures. WCRI's diverse membership includes employers; insurers; governmental entities; managed care companies; health care providers; insurance regulators; state labor organizations; and state administrative agencies in the U.S., Canada, Australia, and New Zealand.
###