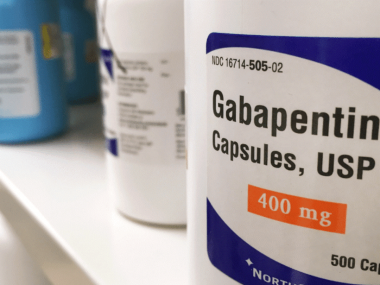 Cambridge, MA, August 17, 2021 ― With a growing number of workers receiving gabapentinoids (e.g., Neurontin®, Lyrica®) for managing pain arising from work-related injuries and increasing safety and abuse concerns, the Workers Compensation Research Institute (WCRI) has released a new study that examines their use for work-related injuries and illnesses across 28 states.
"The study can help state officials understand how often workers injured in their state are prescribed gabapentinoids, whether the prescribing adheres to medical treatment guidelines, and if a higher proportion of workers in their state are at risk of adverse events from concomitant use of gabapentinoids and opioids," said John Ruser, president and CEO of WCRI."
The following are among the study's findings:
When workers were prescribed medications, gabapentinoids were dispensed more often in some states than others ─ 1 in 10 workers with prescriptions were dispensed gabapentinoids in Louisiana, Massachusetts, and New York, whereas 3 percent of workers in California, Kansas, Missouri, and New Jersey received gabapentinoids.
Gabapentinoids were almost always dispensed for off-label uses in the workers' compensation system ─ 99 percent of workers with gabapentin and 96 percent of workers with pregabalin did not have a documented diagnosis for one of the FDA-approved conditions. Roughly 2 out of 3 workers had a diagnosis for neuropathic pain conditions.
Off-label use of gabapentinoids is recommended on a limited trial basis for selected conditions with neuropathic features. However, 1 out of 3 workers with gabapentinoid prescriptions in workers' compensation did not have a diagnosis for neuropathic pain conditions or FDA-approved indications.
Workers with gabapentinoids often received opioids concomitantly, which increases the risk of respiratory depression resulting in overdose deaths. Nearly half of the workers with gabapentinoids simultaneously received an opioid prescription in Iowa, Kansas, Louisiana, and Texas, whereas the concomitant use rate was 20 percent or lower in California and Nevada.
The analysis for the study, Off-Label Use of Gabapentinoids for Work-Related Injuries, includes information for roughly 480,000 workers with prescriptions in 28 states who sustained injuries between January 1, 2018, and March 31, 2019. The study examines prescription utilization of these workers in the first year following the injury through March 31, 2020. The 28 states are Arkansas, California, Connecticut, Delaware, Florida, Georgia, Illinois, Indiana, Iowa, Kansas, Kentucky, Louisiana, Maryland, Massachusetts, Michigan, Minnesota, Missouri, Nevada, New Jersey, New Mexico, New York, North Carolina, Pennsylvania, South Carolina, Tennessee, Texas, Virginia, and Wisconsin.
The authors of this study are Vennela Thumula and Te-Chun Liu. To learn more about this study or to download a copy, visit www.wcrinet.org/reports/off-label-use-of-gabapentinoids-for-work-related-injuries.
About WCRI
The Workers Compensation Research Institute (WCRI) is an independent, not-for-profit research organization based in Cambridge, MA. Organized in late 1983, the Institute does not take positions on the issues it researches; rather, it provides information obtained through studies and data collection efforts, which conform to recognized scientific methods. Objectivity is further ensured through rigorous, unbiased peer review procedures. WCRI's diverse membership includes employers; insurers; governmental entities; managed care companies; health care providers; insurance regulators; state labor organizations; and state administrative agencies in the U.S., Canada, Australia, and New Zealand.
###