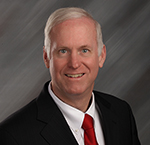 Recently, we spoke with Dan Allen, executive director of the Construction Industry Service Corporation (CISCO), about why he is a member of WCRI. CISCO is a labor-management group that brings together unions of the building trades and construction contractor associations representing more than 140,000 construction workers and 8,000 union contractors in the six-county Chicago metropolitan area.
1) How did you first learn about WCRI?
I heard about the WCRI nine years ago when I started my position at CISCO. Several board members, contractor associations, and union representatives directed me to join the WCRI. They informed me the WCRI had a proven track record of providing comprehensive, unbiased studies that are useful for navigating the complexities of workers' compensation programs.
2) What value do you derive from being a member of WCRI?
The value WCRI has provided has been immeasurable to both the 8,000 union contractors who bear the cost of workers' compensation as well as the 140,000 union workers who receive benefits if injured. Sharing WCRI study data on costs, and comparison charts relating to other states, has helped to strengthen labor and management's commitment to preventing injuries, and shortening recovery periods. Both sides embrace increased safety training, resulting in a more competitive business practice, and most importantly ensuring all workers return home safely to their loved ones.
3) What is your favorite WCRI study/research area?
The CompScope™ Benchmarks studies have been eye opening in revealing the disparity among various states' treatment of injured workers. As a union labor-management organization, I am proud of the joint investment in worker safety and training the union collective bargaining agreement provides. This training helps reduce workers' compensation costs, and most importantly minimize injuries, and fatalities in construction, which by nature is a dangerous work environment.
4) Can you describe a moment when WCRI's research was really helpful?
I firmly believe that WCRI's opioid research was critical in exposing the scope of the opioid epidemic. The studies contributed to the medical community, pharmacies, companies, and state regulators all coming together to help pass regulations to help stop the bad actors. These actions have surely saved many workers and their families from the terrible and potentially lethal throes of addiction. WCRI should be proud and know that their hard work matters!
----------
Interested in becoming a member of WCRI? Click here to learn about the benefits of membership, and then use the form below to contact us with your interest or any questions you have.