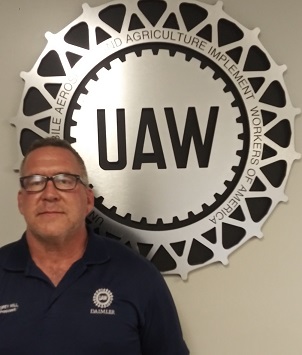 Recently, we had the pleasure of talking to one of our members ─ Corey Hill, president of United Auto Workers, Local 3520 in North Carolina ─ about how he came to know WCRI.
Corey leads a union comprised of over 3,000 union men and women who proudly build Class 8 trucks in Cleveland, North Carolina. Their facility is the largest Class 8 production plant in the United States with more than 1.2 million square feet of under roof manufacturing. They produce Freightliner and Western Star models, and Corey says it's an honor to serve his membership who build the best trucks in the world.
In addition to being a WCRI member, Corey also serves as a labor representative on the WCRI North Carolina Advisory Committee, an executive board member and vice president of the North Carolina AFL-CIO, and an executive board member of the North Carolina Department of Labor Safety Advisory Council.
1) How did you first learn about WCRI?
I was first introduced to WCRI through Hank Patterson and Mike Okum who represent the North Carolina AFL-CIO. Hank sits on the WCRI North Carolina Advisory Committee and approached me about WCRI's annual conference. He said it would be a good opportunity to learn more about state workers' compensation systems, how they differed in their coverage and policies, how they were evaluated (aka metrics), and current trends in the overall system. It sparked my interest and I attended the conference. I had a great time, learned a lot, networked with other labor leaders and other system stakeholders, and, as a result, decided at the end of the conference to become a WCRI member because I wanted to continue to benefit from their research.
2) What value do you derive from being a member of WCRI?
The biggest thing for me is being able to see how different states evaluate injuries and the benefits and cost for treating those injuries. As a union, we negotiate benefits. If we see a particular injury trending, it is an opportunity for us to work with the employer to find ways to reduce that injury. For example, if we are seeing a lot of rotor cuff surgeries, we may need a robotic manipulator. In some cases, an employer may spend more on the injuries then they would on the manipulator. Many think our main job is to fight for the benefits that a worker gets after an injury, but we would prefer to prevent the injury in the first place since when someone gets injured, they carry that injury with them for the rest of their life. Regardless of whether they fully recover from their injury, it can negatively impact their ability to get future employment and, thereby, provide for their families.
3) What is your favorite WCRI study/research area?
There are many different studies I value including WCRI's CompScope™ Benchmarks and Medical Benchmarks, medical price index, opioid studies, workers' compensation laws, and others. Seeing the different laws that states employ is important to know as we look to pass laws that protect workers, especially in "right-to-work" states where the workers' compensation laws are the only rights they have, and they need to be strengthened to sustain what a family needs.
I am also very interested in the reports on attorney involvement. Workers' compensation systems are not always served by the involvement of attorneys. If a system is not working in the best interest of the injured worker, an attorney is not paid to fix the system, just to reach a resolution. It has to be fixed by legislation and that is why we value the reports WCRI publishes on various metrics, which help us see what states have systems that are protecting and providing adequate benefits to injured workers in a timely manner, and which ones need reform.
The opioids research was also valuable and led to needed reforms since many were making money off of prescribing these addictive substances to injured workers, which resulted in horrible stories of injured workers getting addicted, stealing for their addition, and dying from overdoses.
4) Can you describe a moment when WCRI's research was really helpful?
During negotiation over healthcare benefits, WCRI's research gave us insight into the prices charged for various procedures. Before seeing WCRI's research, I never knew there was so much variation in what hospitals and medical practitioners charged for similar procedures. When we negotiate, WCRI's research allows us to question what we are being told. Through negotiation we are able to save the employer money, which gives the worker more benefits out of their package. Knowledge is power. Whether is it seeing injuries that are trending or seeing certain drugs being prescribed that might be unnecessary, WCRI's research helps us to better advocate for and protect our members.
----------
Interested in becoming a member of WCRI? Click here to learn about the benefits of membership, and then use the form below to contact us with your interest or any questions you have.