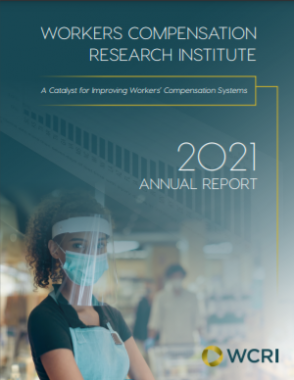 Cambridge, MA, April 20, 2021 – The Workers Compensation Research Institute (WCRI) announced that an online version of its 2021 annual report is available on its website. The report takes a comprehensive look at all of the Institute's activities in 2020, from the number of studies published to how that research was used by policymakers and other stakeholders.
In his annual letter, CEO John Ruser says that despite the many unknown variables at play due to the COVID-19 pandemic, the Institute is both well prepared and well positioned to inform the public policy debates ahead. "In these challenging times with so many unknowns, our research is needed now more than ever to understand the short- and long-term impact of COVID-19 on state workers' compensation systems. Rest assured that WCRI will continue to provide policymakers and system stakeholders with the sound research, credible data, and objective analysis that contribute to an informed debate while avoiding taking positions or making policy recommendations," said Ruser.
The following are among the information included in the report:
Studies published in 2020, as well as a review of some of them
Where the research was used and shared
Presentations given, including webinars
Corporate social responsibility
Impact of social media
Number of media mentions
Interviews with WCRI members
List of members and supporters
The report thanks WCRI's members and friends for their support, which has enabled the Institute to produce independent, credible, and high-quality research on state workers' compensation systems for over 35 years. Click here for a complimentary copy of WCRI's 2021 Annual Report.
About WCRI
The Workers Compensation Research Institute (WCRI) is an independent, not-for-profit research organization based in Cambridge, MA. Organized in late 1983, the Institute does not take positions on the issues it researches; rather, it provides information obtained through studies and data collection efforts, which conform to recognized scientific methods. Objectivity is further ensured through rigorous, unbiased peer review procedures. WCRI's diverse membership includes employers; insurers; governmental entities; managed care companies; health care providers; insurance regulators; state labor organizations; and state administrative agencies in the U.S., Canada, Australia, and New Zealand.
###