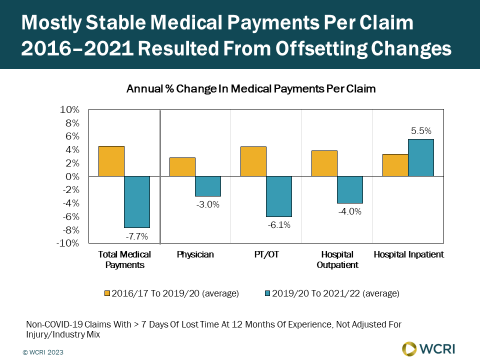 Cambridge, MA, October 19, 2023 – A new study from the Workers Compensation Research Institute (WCRI) found that medical payments per workers' compensation claim in Indiana changed little between 2016 and 2021.
"The stability we see in medical payments in Indiana was the result of offsetting changes, including declines in payments per claim for physician services, physical medicine, and hospital outpatient care, coupled with increased payments per claim for hospital inpatient treatments," said Ramona Tanabe, president and CEO of WCRI. "The decline in payments per claim occurred between 2019 and 2021 and was largely affected by the pandemic."
The study, CompScope™ Medical Benchmarks for Indiana, 24th Edition, focuses on the payments, prices, and utilization of workers' compensation medical care. It examines medical services in Indiana compared with 16 other states overall, by type of provider, and by type of medical service. The study also analyzes how various system performance metrics have changed over time from 2016 to 2021, with claims evaluated as of 2022. In some cases, we use a longer time frame to supply historical context.
The results of the analysis reflect experience on claims through March 2022, including non-COVID-19 claims from the first and second years of the COVID-19 pandemic (March 2020 through September 2021). The study, therefore, provides insights into how the pandemic likely impacted non-COVID-19 workers' compensation claims in the first two years of the pandemic.
For more information about this report or to download a copy, visit https://www.wcrinet.org/reports/compscope-medical-benchmarks-for-indiana-24th-edition. The report was authored by Evelina Radeva.
ABOUT WCRI
The Workers Compensation Research Institute (WCRI) is an independent, not-for-profit research organization based in Cambridge, MA. Organized in late 1983, the Institute does not take positions on the issues it researches; rather, it provides information obtained through studies and data collection efforts, which conform to recognized scientific methods. Objectivity is further ensured through rigorous, unbiased peer review procedures. WCRI's diverse membership includes employers; insurers; governmental entities; managed care companies; health care providers; insurance regulators; state labor organizations; and state administrative agencies in the U.S., Canada, Australia, and New Zealand.
###