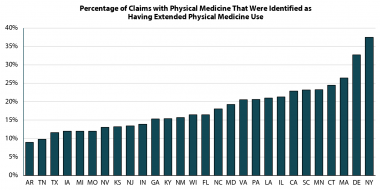 Cambridge, MA, March 1, 2023―Extended physical medicine (PM) use was relatively frequent in most study states and less coordination of care was among the key factors associated with a higher likelihood of having extended PM use, finds a new study from the Workers Compensation Research Institute (WCRI).
"Physical medicine is commonly used to treat workers with low back pain and other musculoskeletal injuries," said John Ruser, WCRI president and CEO. "The study identified a number of important factors that are associated with a higher likelihood of having extended physical medicine care. The findings will be helpful for those who are interested in finding ways to improve coordination of care for the purpose of achieving more consistent care to workers for early recovery."
The study, Factors Associated with Extended Use of Physical Medicine Services for Workers with Low Back Pain, is designed to address the following questions:
How prevalent is the extended use of PM services and how does it vary across states?
How is extended PM use associated with overall costs and duration of temporary disability?
What are the factors that help predict the likelihood of extended PM use, focusing on the factors that can be used for better management of claims and care?
Based on utilization patterns of PM services, the study defined extended PM as claims that had PM services initiated within six weeks of injury and continued to have PM services after three months. According to the study, some claims with extended PM use may have more serious or chronic conditions that need additional services. However, the frequency of extended PM use appears to be higher than the rate of chronic back pain reported in other studies, suggesting other factors affect the use of extended PM in workers' compensation.
Click here to learn more about this study or to purchase a copy. Dongchun Wang, Kathryn L. Mueller, and Randall D. Lea authored this study.
About WCRI
The Workers Compensation Research Institute (WCRI) is an independent, not-for-profit research organization based in Cambridge, MA. Organized in 1983, the Institute does not take positions on the issues it researches; rather, it provides information obtained through studies and data collection efforts, which conform to recognized scientific methods. Objectivity is further ensured through rigorous, unbiased peer review procedures. WCRI's diverse membership includes employers; insurers; governmental entities; managed care companies; health care providers; insurance regulators; state labor organizations; and state administrative agencies in the U.S., Canada, Australia, and New Zealand.
###