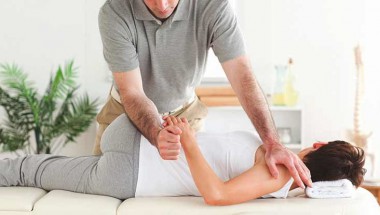 Cambridge, MA, May 25, 2022 —The Workers Compensation Research Institute (WCRI) will hold a 60-minute webinar on Wednesday, June 15, 2022, at 2 p.m. ET to discuss findings from a recently published WCRI study Chiropractic Care for Workers with Low Back Pain.
"This webinar will be informative for policymakers and system stakeholders. Attendees will learn the study's key findings about the prevalence and outcomes of chiropractic care, as well as what experts have to say about the chiropractic profession and what the research findings mean from a policy perspective," said John Ruser, WCRI's president and CEO.
Questions Addressed:
How does the prevalence of chiropractic care for low back pain vary across 28 study states?
How are chiropractors involved in delivering care for workers with low back pain?
How do the costs and temporary disability duration compare between low back pain workers who received chiropractic care and similar workers who received non-chiropractic physical medicine treatment?
Presenters/Authors:
Donald R. Murphy, D.C., is a chiropractic physician and clinical assistant professor in the Department of Family Medicine at the Alpert Medical School of Brown University.
Dongchun Wang is an economist with WCRI.
Kathryn Mueller, M.D., is a professor at the Colorado School of Public Health and former medical director for the Division of Workers' Compensation in Colorado.
Randall Lea, M.D., is an orthopedic surgeon and senior research fellow at WCRI.
Webinars are $50 for Non-Members and FREE for WCRI Members, members of the press, legislators as well as their staff, and state public officials who make policy decisions regarding workers' compensation. Attendance is limited to 500 people and all attendees receive a copy of the slides and a recording of the webinar.
ABOUT WCRI:

The Workers Compensation Research Institute (WCRI) is an independent, not-for-profit research organization based in Cambridge, MA. Organized in 1983, the Institute does not take positions on the issues it researches; rather, it provides information obtained through studies and data collection efforts, which conform to recognized scientific methods. Objectivity is further ensured through rigorous, unbiased peer review procedures. WCRI's diverse membership includes employers; insurers; governmental entities; managed care companies; health care providers; insurance regulators; state labor organizations; and state administrative agencies in the U.S., Canada, Australia, and New Zealand.
###