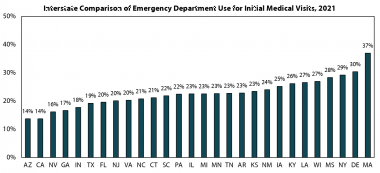 Cambridge, MA, Dec. 19, 2022―A new 28-state study from the Workers Compensation Research Institute (WCRI) found substantial variation across states in the rates of emergency department (ED) use among workers seeking care for new injuries during the period from the first quarter of 2019 to the first quarter of 2021.
"The substantial interstate variation in the use of EDs across states, even for the same injury type, raises questions about why we observe this variation and whether it comes from the design of workers' compensation systems or other factors," said John Ruser, president and CEO of WCRI. "In addition to documenting the variation, this study sheds light on some of the factors accounting for it."
The study, Initial Medical Treatment at Emergency Department or Physician Office: Interstate Comparisons and Early COVID-19 Impact—A WCRI FlashReport, addresses the following questions:
How does the use of EDs versus physician offices for initial medical services vary across states?
What are some of the factors explaining the observed interstate variation in the use of EDs for a given injury type?
How did COVID-19 impact the use of EDs as the source of initial medical services?
To what extent are EDs, as opposed to physician offices, used for various types of injuries?
In 2021, ED utilization for initial medical services ranged from 14 percent in Arizona to 37 percent in Massachusetts. The variation was even larger for conditions like sprains and strains, for which there is a wider scope of shifting between office and ED settings. Some factors explaining this variation may include local norms of ED utilization and state-specific workers' compensation system features. During the COVID-19 pandemic, ED utilization as the source of initial medical services tended to be lower when the COVID-19 caseload was higher.
The study tracked evaluation and management and ED utilization patterns for workers injured in 28 states: Arizona, Arkansas, California, Connecticut, Delaware, Florida, Georgia, Illinois, Indiana, Iowa, Kansas, Kentucky, Louisiana, Massachusetts, Michigan, Minnesota, Mississippi, Nevada, New Jersey, New Mexico, New York, North Carolina, Pennsylvania, South Carolina, Tennessee, Texas, Virginia, and Wisconsin. These study states represent 79 percent of the workers' compensation benefits paid in the United States.
Click here to learn more about this study or to purchase a copy. Olesya Fomenko authored this study.
About WCRI
The Workers Compensation Research Institute (WCRI) is an independent, not-for-profit research organization based in Cambridge, MA. Organized in 1983, the Institute does not take positions on the issues it researches; rather, it provides information obtained through studies and data collection efforts, which conform to recognized scientific methods. Objectivity is further ensured through rigorous, unbiased peer review procedures. WCRI's diverse membership includes employers; insurers; governmental entities; managed care companies; health care providers; insurance regulators; state labor organizations; and state administrative agencies in the U.S., Canada, Australia, and New Zealand.
###