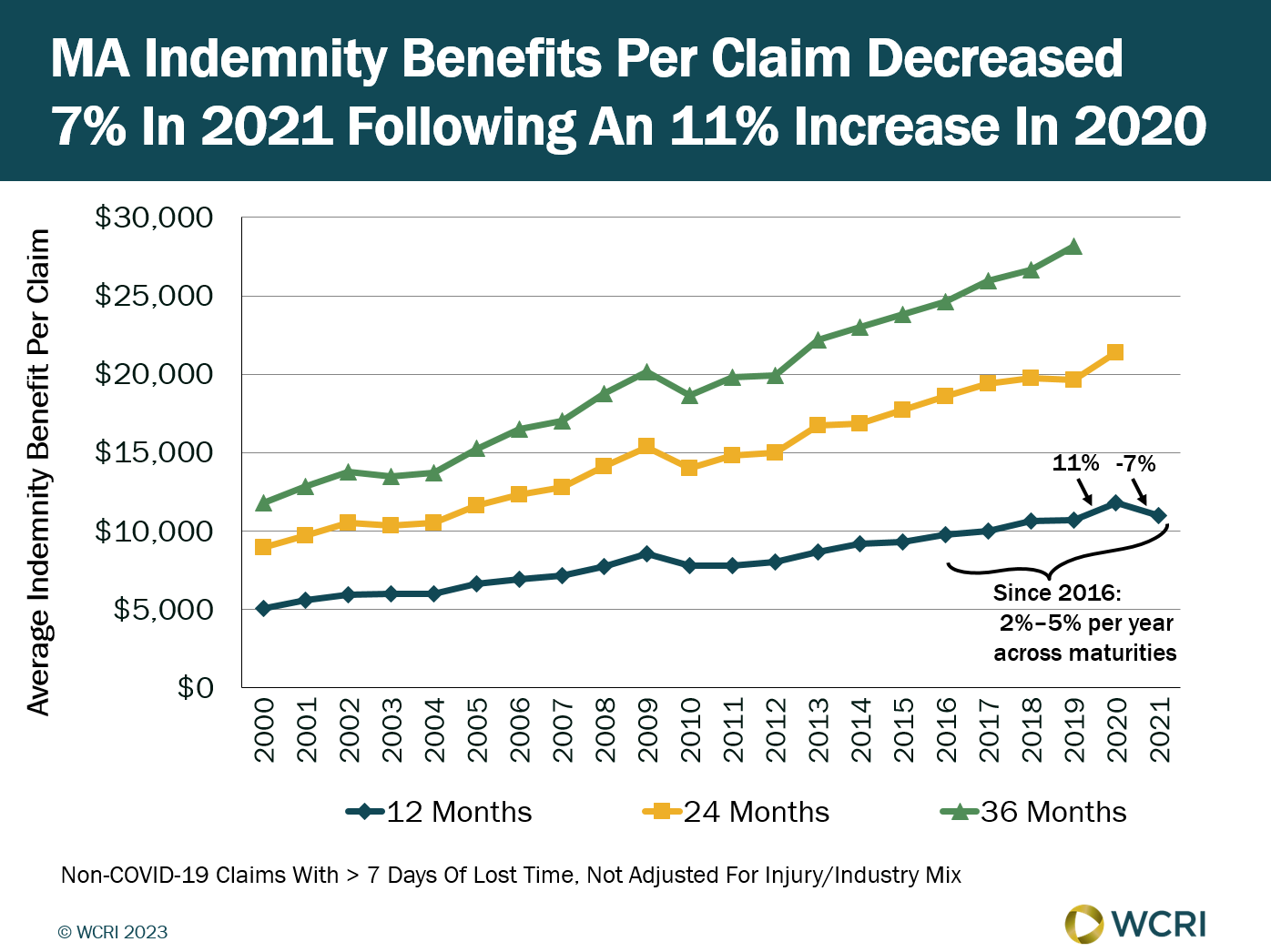 Cambridge, MA, May 9, 2023 – Indemnity benefits per claim in Massachusetts decreased 7 percent in 2021 following a sizeable increase in the previous year. Duration of temporary disability was a major driver of indemnity trends in both years, according to a recent study from the Workers Compensation Research Institute (WCRI).
The average duration of temporary disability decreased nearly 7 percent in 2021, following a 10 percent increase in 2020. The average duration of temporary disability remained higher than before the pandemic, similar to most other study states.
"Economic conditions before and since the COVID-19 pandemic likely contributed to the trends in indemnity benefits in Massachusetts," said Ramona Tanabe, president and CEO of WCRI. "Before the COVID-19 pandemic, the Massachusetts economy was characterized by strong growth in employment and wages. As the pandemic hit, the economy in Massachusetts was affected severely. As jobs were lost, return-to-work opportunities for workers with injuries became more limited, and this likely contributed to the increased duration of temporary disability in 2020."
According to the study, the economic recovery in Massachusetts has been strong in the aggregate, but uneven. Sectors hit the hardest at the height of the pandemic (such as leisure and hospitality, and education and health services) have not recovered all the jobs that were lost as the pandemic struck. This may help explain why the duration of temporary disability decreased in 2021 but remained above its pre-pandemic level.
The following are among the study's other findings:
Medical payments per claim in Massachusetts decreased in 2020 and 2021 after a period of stability from 2009 to 2019.
The average total cost per claim for claims with more than seven days of lost time in Massachusetts was lower than in most other study states for 2019 claims.
The average indemnity benefit per claim in Massachusetts was 14 percent higher than the median study state for 2019 claims.
The 23rd edition of CompScope™ Benchmarks for Massachusetts provides ongoing annual monitoring of how indemnity benefits, medical payments, and benefit delivery expenses per claim in the state's workers' compensation system change over time, and how these metrics compare with 16 other states.
To learn more about this study or to purchase a copy, visit https://www.wcrinet.org/reports/compscope-benchmarks-for-massachusetts-23rd-edition. Roman Dolinschi is the author of the study.
About WCRI
The Workers Compensation Research Institute (WCRI) is an independent, not-for-profit research organization based in Cambridge, MA. Organized in late 1983, the Institute does not take positions on the issues it researches; rather, it provides information obtained through studies and data collection efforts, which conform to recognized scientific methods. Objectivity is further ensured through rigorous, unbiased peer review procedures. WCRI's diverse membership includes employers; insurers; governmental entities; managed care companies; health care providers; insurance regulators; state labor organizations; and state administrative agencies in the U.S., Canada, Australia, and New Zealand.
###