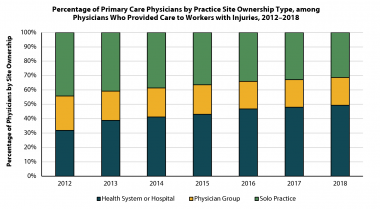 Cambridge, MA, March 16, 2023―A new study from the Workers Compensation Research Institute (WCRI) examines the impact of vertical integration of medical providers on payments for workers' compensation care. In particular, it shows how payments for care provided by physicians to workers with injuries changed after hospitals and health systems acquired physician practices.
"Medical markets are increasingly concentrated. This means that patients are more likely to be treated by physicians at sites owned by hospitals and health systems," said John Ruser, WCRI president and CEO. "This raises a policy concern that the increasing concentration of medical providers may lead to higher payments for medical care without corresponding improvements in patient outcomes."
The study, Impact of Medical Provider Consolidation on Workers' Compensation Payments, is the first to focus on the effect of vertical integration in workers' compensation. Prior studies, of group health markets, found evidence of increasing prices as one of the main outcomes of the growth in provider consolidation. Economists expect that increases in provider consolidation lead to higher bargaining power of these providers over prices and, in turn, result in higher payments for care. Furthermore, provider consolidation may lead to more instances of facility fees being included in medical bills for similar types of care that are provided by vertically integrated physicians.
The following are among the study's major findings:
Between 2012 and 2018, the percentage of physicians practicing at sites owned by hospitals or health systems increased from 32 to 49 percent for primary care physicians, and from 18 to 35 percent for orthopedic surgeons.
Vertical integration (physicians becoming part of a hospital or a health system) increased the average payment per procedure by 8 percent, which translates to an average $29 increase in that measure.
The effects of vertical integration on medical payments were larger in the states that did not regulate payments for physicians through fixed-amount fee schedules. Vertical integration resulted in a $91 increase in the average payment per procedure in the non-fee schedule states.
This analysis is the first in a line of proposed studies examining how the growing consolidation of medical providers affects care delivered to workers with injuries. To learn more about this study or to purchase a copy, visit https://www.wcrinet.org/reports/impact-of-medical-provider-consolidation-on-workers-compensation-payments. Bogdan Savych and Olesya Fomenko authored this study.
About WCRI
The Workers Compensation Research Institute (WCRI) is an independent, not-for-profit research organization based in Cambridge, MA. Organized in 1983, the Institute does not take positions on the issues it researches; rather, it provides information obtained through studies and data collection efforts, which conform to recognized scientific methods. Objectivity is further ensured through rigorous, unbiased peer review procedures. WCRI's diverse membership includes employers; insurers; governmental entities; managed care companies; health care providers; insurance regulators; state labor organizations; and state administrative agencies in the U.S., Canada, Australia, and New Zealand.
###