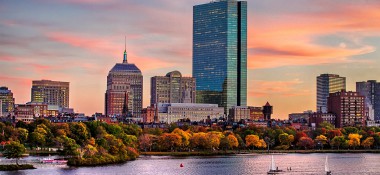 Cambridge, MA, Dec. 2, 2021―Today, the Workers Compensation Research Institute (WCRI) announced registration is now open for the Institute's 38th Annual Issues & Research Conference, March 16-17, 2022. This year's conference is being held in person at the Westin Copley Hotel in Boston and the theme is "Emerging and Learning from Disruption."
"COVID-19 has disrupted our work and personal lives in unimaginable ways. As we slowly emerge from it, we look forward to sharing what we have learned at our conference as we come together to reconnect, to learn, and to network," said John Ruser, WCRI's president and CEO. "If we've learned anything from COVID-19 and the latest variant, it's to plan, but be ready to pivot. Although we are planning on an in-person conference, we are prepared to pivot to a virtual conference if needed."
WCRI's two-day program highlights the Institute's latest research while drawing upon the diverse perspectives of highly respected workers' compensation experts and policymakers from across the country. The following are among the topics the conference will address:
Impact of COVID-19 on the workplace
Medical marijuana: legalization, reimbursement, and impairment
Vaccines, variants, and long-term medical effects of COVID-19
Effect of consolidation and integration of medical care on medical prices
Latest WCRI research on drug formularies, chiropractic care, and the delivery of medical care
Selective findings and trends seen across WCRI's benchmarking studies
To ensure a safe and successful in-person conference, WCRI will be adhering to federal, state, and local health protocols. All attendees will be required to affirm they are fully vaccinated or have received a negative COVID-19 test within 72 hours of the start of the event. WCRI staff will also be monitoring the situation leading up to and during the event daily in case safety protocols need to be adjusted.
The WCRI conference is a leading workers' compensation forum for policymakers, employers, labor advocates, insurance executives, health care organizations, claims managers, researchers, and others. Conference participants will leave with new insights, valuable networking contacts, and a better understanding of key issues in today's competitive environment.
To learn more about the conference or to register, visit https://www.wcrinet.org/news/events/38th-annual-wcri-issues-research-conference.
About WCRI:
The Workers Compensation Research Institute (WCRI) is an independent, not-for-profit research organization based in Cambridge, MA. Organized in late 1983, the Institute does not take positions on the issues it researches; rather, it provides information obtained through studies and data collection efforts, which conform to recognized scientific methods. Objectivity is further ensured through rigorous, unbiased peer review procedures. WCRI's diverse membership includes employers; insurers; governmental entities; managed care companies; health care providers; insurance regulators; state labor organizations; and state administrative agencies in the U.S., Canada, Australia, and New Zealand.
###