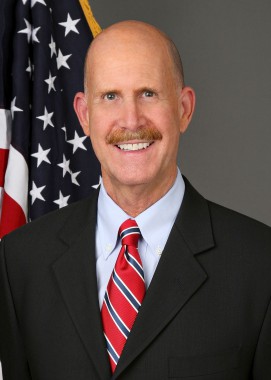 Cambridge, MA, Feb. 24, 2021 ― The National Institute for Occupational Safety and Health (NIOSH) Director John Howard will deliver a keynote on the future of work, COVID-19, and worker safety at the end of the second day of the Workers Compensation Research Institute's (WCRI) 37th Annual Issues & Research Conference, held virtually March 23 and 24, 2021.
"We're excited to have Dr. Howard be the closing keynote speaker at our annual conference," said John Ruser, WCRI's president and CEO. "There are a lot of questions about the impact of COVID-19 and the vaccines on people returning to work. I look forward to Dr. Howard addressing these questions, as well as others, about how changes in work will affect occupational safety and health."
The COVID-19 pandemic has demonstrated the need for a renewed focus on work issues today and in the future. NIOSH and other occupational safety and health stakeholders are leading the way in understanding the implications of future of work scenarios and translating effective interventions into practice for employers safeguarding the safety, health, and well‐being of their workforces. In this session, Dr. Howard will discuss NIOSH's Future of Work Initiative and the role technology, automation, gig work, and remote workplaces play in emerging workplace safety and health issues. He will also address pandemic preparedness and what employers can do to help ensure employee safety and well-being.
In addition to serving as the director of NIOSH, Dr. Howard is the administrator of the World Trade Center Health Program of the U.S. Department of Health and Human Services in Washington, D.C. He was first appointed as NIOSH director in 2002, and was re-appointed to an unprecedented third six-year term as director in 2015. Previously, Dr. Howard served as chief of the Division of Occupational Safety and Health (Cal/OSHA) in the California Department of Industrial Relations from 1991 through 2002.
The WCRI conference is a leading workers' compensation forum. The two-day program highlights the Institute's latest research findings while drawing upon the diverse perspectives of highly respected workers' compensation experts and policymakers from across the country. This year's virtual conference will be shorter and feature four sessions per day in the afternoon from 1:00 to 4:00 p.m. ET. The following are among the other topics the conference will address:
Economic Impact of COVID-19
Health Equity and COVID-19 Vaccinations
Impact of COVID-19 on Claims and the Delivery of Medical Care
Off-Label Prescribing and the Effects of Opioid-Related Policies
Physical Therapy Treatment Patterns and Outcomes
The conference is free for WCRI members, state legislators, and members of the press, and $175 for non-members. To learn more or to register, visit https://www.wcrinet.org/news/events/37th-annual-wcri-issues-research-conference.
About WCRI
The Workers Compensation Research Institute (WCRI) is an independent, not-for-profit research organization based in Cambridge, MA. Organized in late 1983, the Institute does not take positions on the issues it researches; rather, it provides information obtained through studies and data collection efforts, which conform to recognized scientific methods. Objectivity is further ensured through rigorous, unbiased peer review procedures. WCRI's diverse membership includes employers; insurers; governmental entities; managed care companies; health care providers; insurance regulators; state labor organizations; and state administrative agencies in the U.S., Canada, Australia, and New Zealand.
###