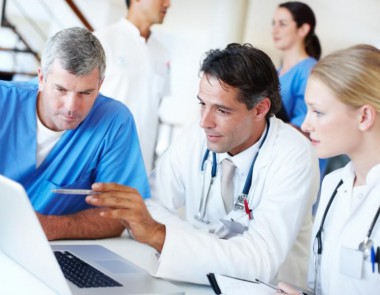 Cambridge, MA, March 28, 2023―A new study from the Workers Compensation Research Institute (WCRI) helps policymakers and stakeholders get an informed view about access to providers in their states by describing the medical workforce treating workers with injuries. The study shows how often physicians treat workers with injuries, examines the volume and the types of services that physicians provide, and examines how these providers fit within a larger health care marketplace.
"In order to evaluate access to medical care and providers, one has to have a reliable picture of the marketplace within which physicians operate," said John Ruser, president and CEO of WCRI. "Equipped with this information, policymakers can make well-informed decisions about how to address any concerns about access to care and attract more providers to treat workers with injuries."
The study finds substantial differences across physicians in their involvement in treating workers' compensation patients. For some providers, work-related injuries represent a large part of their patient base, while many other providers may see workers with injuries only occasionally. Physicians who treat a substantial number of workers may be more familiar with the particularities of treating occupational injuries and may have better knowledge of factors that facilitate timely return to work.
The study, Workers' Compensation Providers: Describing the Marketplace, is the first to examine the workers' compensation physician marketplace across multiple states. The following are among the questions the study addresses:
How many of the providers available in the marketplace treated workers with injuries? Does this measure of provider involvement in the workers' compensation system vary across states?
What types of care do different types of physicians provide to workers with injuries?
How do characteristics of physician practices change over time?
The analysis for this study includes information on medical care providers who treated workers after their injuries and the services that they provided across 34 states primarily between 2016 and 2018. To learn more about this study or to purchase a copy, visit https://www.wcrinet.org/reports/workers-compensation-providers-describing-the-marketplace. Bogdan Savych and Olesya Fomenko authored this study.
About WCRI
The Workers Compensation Research Institute (WCRI) is an independent, not-for-profit research organization based in Cambridge, MA. Organized in 1983, the Institute does not take positions on the issues it researches; rather, it provides information obtained through studies and data collection efforts, which conform to recognized scientific methods. Objectivity is further ensured through rigorous, unbiased peer review procedures. WCRI's diverse membership includes employers; insurers; governmental entities; managed care companies; health care providers; insurance regulators; state labor organizations; and state administrative agencies in the U.S., Canada, Australia, and New Zealand.
###