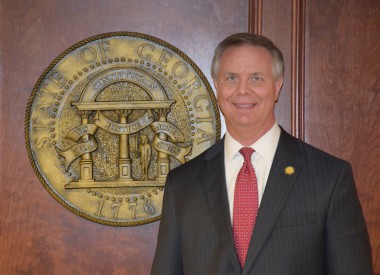 Recently, we had the pleasure of speaking with one of our members—Frank McKay, chairman of the Georgia State Board of Workers' Compensation—about how he came to know WCRI.
As Chairman, Judge McKay also serves as the State Board's Chief Appellate Court Judge. Judge McKay came to the State Board of Workers' Compensation as Chairman in 2013 from private practice where he concentrated in workers' compensation representing both employers, insured and self-insured, and injured employees.
1) How did you first learn about WCRI?
Soon after coming into my position as chairman of the Georgia State Board of Workers' Compensation in 2013 I read some WCRI studies on medical cost drivers in several states' workers' compensation systems. At my first Southern Association of Workers' Compensation Administrators (SAWCA) conference in July 2013, I met a representative of WCRI and had a good conversation about the in-depth research WCRI could provide by using Georgia payment data on the medical and indemnity costs in our workers' compensation system. We decided to follow up on those meetings and learn more about the costs and benefits of being included in WCRI's CompScope™ Benchmarks studies and that led to our decision to join WCRI as a member.
2) What value do you derive from being a member of WCRI?
Being included in WCRI's CompScope™ Benchmarks studies has provided useful data and information in the analysis of our Georgia Medical Fee Schedule that we publish annually. Since Georgia is a large workers' compensation state in terms of premiums paid and benefits paid, the CompScope™ studies that compare regional and nationwide payment data are useful for comparison. The payment data and use of it by WCRI in preparing analytical reports help us in our policymaking decisions in furthering our goals of providing a fair and balanced workers' compensation system and ensuring injured workers have access to quality medical treatment at a reasonable price to the employer.
3) What is your favorite WCRI study/research area?
The CompScope™ Medical Benchmarks studies are my favorite WCRI studies in terms of use as a research tool and for comparing amounts paid for the same medical services in other states' workers' compensation systems. I also like seeing the comparisons of our medical payment amounts with Medicare and private health insurance.
WCRI's Annual Issues & Research Conference also provides an excellent opportunity to focus and learn about medical costs, indemnity costs, and worker outcomes. It is a place to meaningful networking discussions, and this year's agenda looks particularly interesting.
4) Can you describe a moment when WCRI's research was really helpful?
Every year, when we review Georgia's Medical Fee Schedule we also review our WCRI CompScope™ Medical Benchmarks for Georgia study for analysis and comparison purposes. In addition, the many other WCRI studies that delve deep into system features have been very helpful. In particular, we have used WCRI's studies to analyze the use of opioids in our system, study the practice of physician dispensing of prescription drugs, and compare the amounts paid to ambulatory surgery centers and hospital outpatient surgery centers for the same surgeries. Data showing indemnity payment amounts with length of time from date of accident to commencement and suspension of benefits has also been useful.