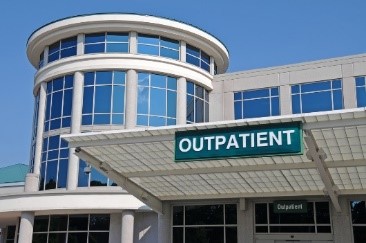 Cambridge, MA, May 6, 2021 – Today, the Workers Compensation Research Institute (WCRI) released a new study, Hospital Outpatient Payment Index: Interstate Variations and Policy Analysis, 10th Edition, which compares hospital payments for a group of common outpatient surgeries in workers' compensation across 36 states from 2005 to 2019.
"Rising hospital outpatient costs have been a focus for public policymakers and system stakeholders in recent policy debates in many states," said Ramona Tanabe, WCRI's executive vice president and counsel. "The study provides meaningful comparisons of hospital outpatient payments across states, as well as hospital payment trends in relation to reforms of hospital outpatient fee regulations."
The following is a sample of the study's findings:
Hospital payments per outpatient surgical episode in states with percent-of-charge-based fee regulations were 73 to 209 percent higher than the median of the study states with fixed-amount fee schedules in 2019. In states with no fee schedules, they were 61 to 130 percent higher.
Growth in hospital outpatient payments per episode among non-fee schedule states ranged from 25 percent in Iowa to 54 percent in Missouri, while the payments in the median fixed-amount fee schedule state without substantial changes in regulations increased about 4 percent from 2011 to 2019.
Variation between average workers' compensation payments and Medicare rates for a common group of procedures across states ranged from a low of 38 percent (or $2,294) below Medicare in Nevada to a high of 502 percent (or $24,758) above Medicare in Alabama.
Payments for services provided and billed by hospitals are captured in this study. Professional services billed by nonhospital medical providers (e.g., physicians, physical therapists, and chiropractors), transactions for durable medical equipment and pharmaceuticals billed by providers other than hospitals, and payments made to ambulatory surgery centers are excluded. The study also provides an analysis of major policy changes in states with recent fee schedule reforms.
The study covers 36 large states that represent 88 percent of the workers' compensation benefits paid in the United States. These states are Alabama, Arizona, Arkansas, California, Colorado, Connecticut, Florida, Georgia, Idaho, Illinois, Indiana, Iowa, Kansas, Kentucky, Louisiana, Maryland, Massachusetts, Michigan, Minnesota, Mississippi, Missouri, Nebraska, Nevada, New Jersey, New Mexico, New York, North Carolina, Oklahoma, Oregon, Pennsylvania, South Carolina, Tennessee, Texas, Virginia, West Virginia, and Wisconsin.
For more information about this report or to download a copy, visit www.wcrinet.org/reports/hospital-outpatient-payment-index-interstate-variations-and-policy-analysis-10th-edition. The report was authored by Olesya Fomenko and Rebecca Yang.
ABOUT WCRI:
The Workers Compensation Research Institute (WCRI) is an independent, not-for-profit research organization based in Cambridge, MA. Organized in late 1983, the Institute does not take positions on the issues it researches; rather, it provides information obtained through studies and data collection efforts, which conform to recognized scientific methods. Objectivity is further ensured through rigorous, unbiased peer review procedures. WCRI's diverse membership includes employers; insurers; governmental entities; managed care companies; health care providers; insurance regulators; state labor organizations; and state administrative agencies in the U.S., Canada, Australia and New Zealand.
###