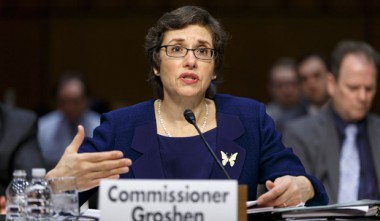 Cambridge, MA, Nov. 7, 2017―The Workers Compensation Research Institute (WCRI) announced today that Dr. Erica L. Groshen, former Commissioner of Labor Statistics and head of the U.S. Bureau of Labor Statistics, will be the opening speaker at its 34th Annual Issues & Research Conference, March 22 and 23, 2018, at the Westin Copley Place Hotel in Boston, MA.
"We're excited to have Dr. Groshen open WCRI's annual conference―our biggest event of the year," said John Ruser, WCRI's president and CEO. "With Erica's insights into labor force trends and the impact of technology in today's fast-changing world, attendees are sure to leave with actionable information they can use to prepare their organizations for the future."
Dr. Groshen became the 14th Commissioner of Labor Statistics and served from January 2013 to January 2017. Before that, she taught economics at Barnard College at Columbia University and has worked for numerous high-profile economic institutions, such as the Federal Reserve Bank of Cleveland; Federal Reserve Bank of New York; and Bank for International Settlements in Basel, Switzerland. Dr. Groshen has a bachelor's degree in economics and mathematics from the University of Wisconsin-Madison and a Ph.D. in economics from Harvard University.
WCRI's two-day program highlights the Institute's latest research findings while drawing upon the diverse perspectives of highly respected workers' compensation experts and policymakers from across the country. The following are among the questions the conference will be addressing using the latest research:
What challenges face the workers' compensation system, and how might the system evolve to meet them?
Does opioid use have an effect on return to work?
How is the prescription drug crisis impacting American employers, and how are they responding?
What do providers, regulators, and payors have to say about value-based care?
Can low fee schedules create access-to-care issues for injured workers?
The WCRI conference is a leading workers' compensation forum for policymakers, employers, labor advocates, insurance executives, health care organizations, claims managers, researchers, and others. Conference participants will leave with new insights, valuable networking contacts, and a better understanding of key issues in today's competitive environment.
A discounted, early-bird conference registration rate as well as a special conference hotel rate is available for a limited time. To learn more or to register, visit https://conference.wcrinet.org/.
ABOUT WCRI:
The Workers Compensation Research Institute (WCRI) is an independent, not-for-profit research organization based in Cambridge, MA. Organized in late 1983, the Institute does not take positions on the issues it researches; rather, it provides information obtained through studies and data collection efforts, which conform to recognized scientific methods. Objectivity is further ensured through rigorous, unbiased peer review procedures. WCRI's diverse membership includes employers; insurers; governmental entities; managed care companies; health care providers; insurance regulators; state labor organizations; and state administrative agencies in the U.S., Canada, Australia, and New Zealand.
###