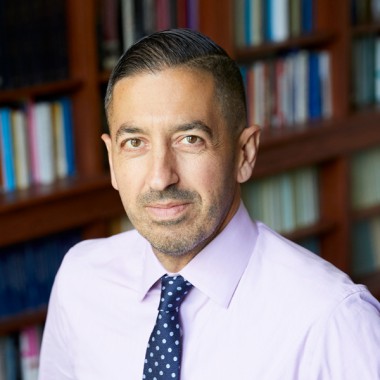 Cambridge, MA, March 3, 2022―Today, the Workers Compensation Research Institute (WCRI) announced that Dr. Sandro Galea would deliver the keynote address on day two of the 38th Annual WCRI Issues & Research Conference, March 16-17, 2022, in Boston, MA. Dr. Galea is a well-known physician, epidemiologist, author, dean, and Robert A. Knox Professor at Boston University School of Public Health.
"With the omicron wave subsiding, attention has turned to long COVID-19 and how to prepare for the next variant," said John Ruser, WCRI president and CEO. "Dr. Galea is uniquely qualified to answer both these questions and more. We are honored to have him on our agenda and know our more than 300 attendees will find his talk on the short- and long-term consequences of COVID-19 both timely and valuable."
Dr. Galea has been named one of Time magazine's epidemiology innovators and has been listed as one of the "World's Most Influential Scientific Minds." He has published 18 books and over 950 peer-reviewed journal articles. In his most recent book, The Contagion Next Time, he discusses what it will take to prevent the next global health catastrophe. The following are among the questions he will address during his keynote speech:
What are the social and economic impacts of COVID-19 and long COVID-19?
Of those who contracted COVID-19, how many will develop long-term symptoms?
What are the symptoms and treatment for long COVID-19, and how can employers support those who have it?
Can we expect another variant and, if so, when and how can we prepare?
With new U.S. COVID-19 cases falling more than 90 percent from their January peak, the City of Boston recently lifted its proof of vaccination and indoor mask mandates. While positive news, conference organizers understand everyone has different comfort levels so are providing spaced seating; KN95 masks for those who want them; boxed lunches; sanitization centers; and stickers (green, yellow, and red) to help attendees communicate their level of comfort in interacting with one another.
The WCRI conference is a leading workers' compensation forum. The two-day program highlights the Institute's latest research findings while drawing upon the diverse perspectives of highly respected workers' compensation experts and policymakers from across the country. A special conference hotel rate of $236 is also available for a limited time. Click here to learn more about the conference agenda or to register.
About WCRI:
The Workers Compensation Research Institute (WCRI) is an independent, not-for-profit research organization based in Cambridge, MA. Organized in late 1983, the Institute does not take positions on the issues it researches; rather, it provides information obtained through studies and data collection efforts, which conform to recognized scientific methods. Objectivity is further ensured through rigorous, unbiased peer review procedures. WCRI's diverse membership includes employers; insurers; governmental entities; managed care companies; health care providers; insurance regulators; state labor organizations; and state administrative agencies in the U.S., Canada, Australia, and New Zealand.
###