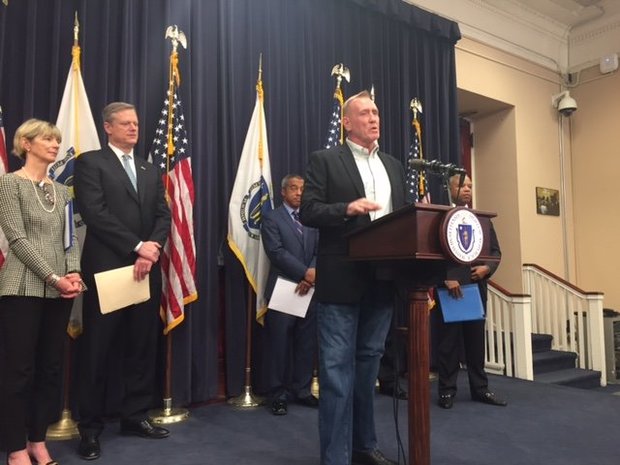 State House News Service | By Colin A. Young | 12/08/2016
BOSTON -- The Baker administration on Thursday launched a new initiative to combat the state's opioid abuse epidemic, this one with a focus on reducing the risk of addiction for workers who are injured on the job.
The two-year pilot program is designed for people with settled workers' compensation cases who are being treated with opioid medication, but whose insurance company seeks to stop payment for the opioid. Such cases, Gov. Charlie Baker said, can take up to a year to come to a resolution, and all the while the worker is prescribed opioids.
"Injured workers in Massachusetts receive 10 percent more prescriptions for opioids on average than 25 other states that were studied in a two-year study done by the Workers' Compensation Research Institute, and Massachusetts led the studied states with the percentage of pain medications that were written for Oxycodone and nearly half of all prescriptions stronger than schedule II opioids," Baker said. "There's more we can do to help injured workers with settled workers' compensation claims get appropriate treatment for pain management."
The new program, which will be voluntary for the injured worker and insurance carrier, will fast-track the case's court proceedings to mediation by assigning a care coordinator who will work as an intermediary between the worker and insurance company to find the best alternative treatment option.
Click here to read more.